Piano Finders History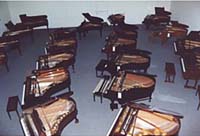 Piano Finders was created in 1982 in response to a need. Kendall Ross Bean, a concert pianist and a composer, was often approached by friends and acquaintances with questions about pianos: what kinds they should buy, where to find them, and how to sell pianos they had. They often also had questions about piano tuning, repairs, rebuilding, refinishing or lessons, or about how much their piano was worth. Seeing this need, Karen Lile, his wife, was inspired with the idea of a place where people could call or come to get information about pianos; in essence, a piano advice hotline.
Piano Finders started small, with services such as a computer listing of available pianos, both new and used, for sale in the greater San Francisco Bay area, and a piano appraisal service. Kendall appraised, tuned, and serviced pianos, and taught other piano technicians his skills. Karen operated the hotline, set up the computer and phone systems, and trained other hotline associates. In addition to helping others find the particular pianos they were looking for, Karen and Kendall also helped people sell, or restore, their vintage instruments.
It is an honor to belong to the piano industry. Most people who work in this industry, including manufacturers, rebuilders, parts suppliers, dealers, technicians, musicians, and teachers, have one thing in common. They sincerely care about improving their communities and contributing to everyone's opportunity to make their own music and experience the music of others. This is a tradition several hundred years old and one we are proud to be part of. …

Karen E. Lile
Soon customers were asking for additional types of piano information and services. In 1988 Karen and Kendall opened a shop where customers could have piano repairs and rebuilding done, and where they could also view used instruments for sale. Several employees were hired to help with the work. A year later Karen and Kendall had to open a second location to accommodate all the pianos and the increased demand. Finally, in 1990, they consolidated all their operations into an 8500 square foot facility with offices for the piano advice hotline, a reception room, a rebuilding shop, and a showroom.
By 1996, Piano Finders was receiving requests for services and pianos all across the country. In the eight years since the opening of their shop, they had been contacted by tens of thousands of people, including entertainment celebrities, university professors of music, pianists of all skill levels, families with small children and those who didn't play but did a lot of entertaining. These requests for services and pianos were coming from all across the country, mostly spread by word of mouth.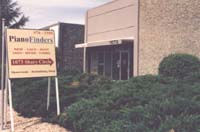 In 1996, Piano Finders closed their "brick-and-mortar" showroom and began to network with dealers and technicians across the country to provide their clients pianos and services that were being requested. The objective: to build a virtual piano showroom where piano buyers and sellers can find each other.
Piano Finders has continued to repair, rebuild and refinish pianos since 1982. Today, Piano Finders uses multiple shop locations for rebuilding and refinishing, including a special shop for Kendall Ross Bean's personal rebuilding projects, and where he continues to refine, and do research and development of, piano rebuilding and refinishing methods.