Certificate of Registration For Piano Finders Trademark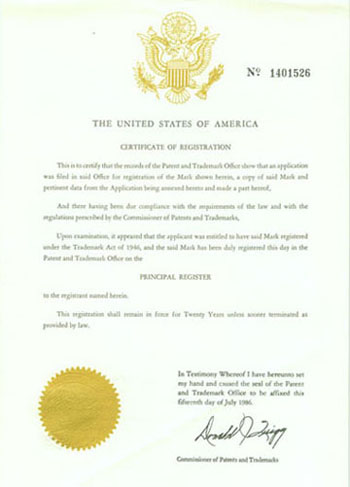 Entire Certificate of Registration No. 1401526 Content follows below:
No. 1401526. The United States of America. Certificate of Registration. This is to certify that the records of the Patent and Trademark Office show that an application was filed in said office for registration of the Mark shown herein, a copy of said Mark and pertinent data from the Application being annexed hereto and made a part hereof,
And there having been due compliance with the requirements of the law and with the regulations prescribed by the Commissioner of Patents and Trademarks,
Upon examination, it appeared that the applicant was entitled to have said Mark registered under the Trademark Act of 1946 and the said Mark has been duly registered this day in the Patent and Trademark Office on the PRINCIPAL REGISTER to the registrant named herein. This registration shall remain in force for Twenty Years unless sooner terminated as provided by law.
In Testimony Whereof I have hereunto set my hand and caused the seal of the Patent and Trademark Office to be affixed this fifteenth day of July 1986. Signature. Commissioner of Patents and Trademarks
Int. Cl.: 36, Prior U.S. Cls.: 101 and 102. Reg. No. 1,401,526. United States Patent and Trademark Office. Registered July 15, 1986. Service Mark. Principal Register. Piano Finders. Piano Finders (Partnership). For: Piano appraisal services, and consultation related thereto; and piano brokerage services, in Class 36 (US Cls. 101 and 102) First use 5-1-1984 in commerce. No claim is made to the exclusive right to use "Piano", apart from the mark as sown Serial No. 533,166 Filed 4-18-1985. Nancy O. Herbert, Examining Attorney.
Current Information on Status of Piano Finders Trademark
What follows is taken from the Trademark and Patent Office Online Website as of August 4, 2005. To view a current record, go to TESS and do a search on the specific phrase "Piano Finders"
Typed Drawing. Word Mark: PIANO FINDERS. Goods and Services: IC 036. US 101 102. G & S: PIANO APPRAISAL SERVICES, AND CONSULTATION RELATED THERETO; AND PIANO BROKERAGE SERVICES. FIRST USE: 19840501. FIRST USE IN COMMERCE: 19840501. Mark Drawing Code (1) TYPED DRAWING
Serial Number: 73533166. Filing Date: April 18, 1985. Current Filing Basis: 1A. Original Filing Basis: 1A. Published for Opposition: April 22, 1986. Registration Number: 1401526. Registration Date: July 15, 1986
Owner(REGISTRANT): PIANO FINDERS COMPOSED OF KENDALL ROSS BEAN AND KAREN EILEEN BEAN, BOTH UNITED STATES CITIZENS PARTNERSHIP CALIFORNIA 1630 No. Main Street #297 Walnut Creek CALIFORNIA 94596
Attorney of Record HUGH D. FINLEY. Disclaimer: NO CLAIM IS MADE TO THE EXCLUSIVE RIGHT TO USE "PIANO" APART FROM THE MARK AS SHOWN.
Type of Mark: SERVICE MARK. Register: PRINCIPAL. Affidavit Text. SECT 15. SECT 8 (6-YR). LIVE